Thursday, November 25, 2010
Trading Cards of Youtube Martial Arts Personas!
Be sure to visit their excellent Youtube channels!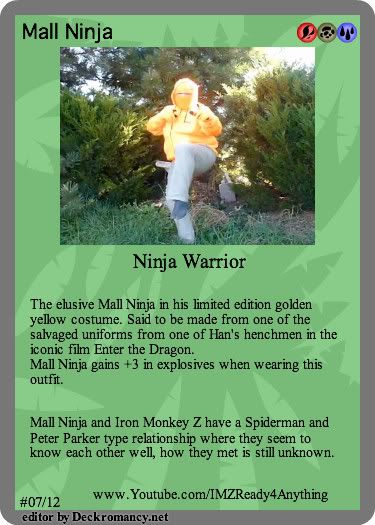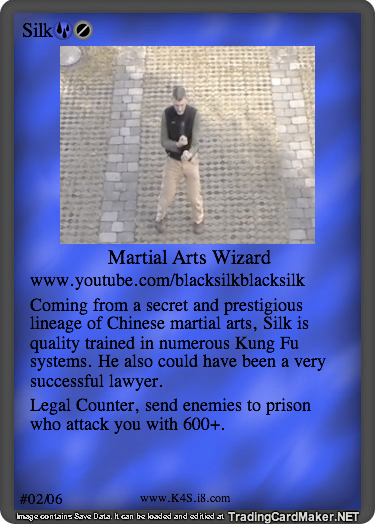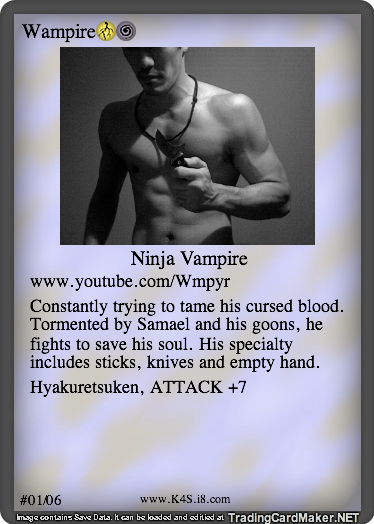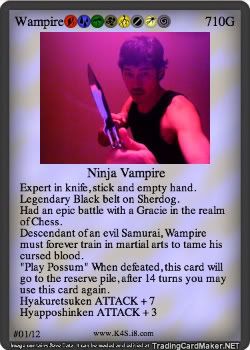 Posted by

Wmpyr
at 8:13 PM
No comments:

Wednesday, November 24, 2010
Wmpyr resume

Please call me sensei(teacher)/instructor/coach but not master or some other title.
Been dedicated to the Martial Arts since the early 90s.
Some schools where Wmpyr studied:
Pedro Alberto Brazilian Jiu-jitsu San Antonio Tx
Prof. Carlos Machado, RCA MJJ/Brazilian Jiu-jitsu, Dallas Tx
Manuel Lozano, Lozano System (Kuk Sool Won + Arnis)
Prof. Marcio Simas, Brazilian Jiu-jitsu, Gracie Barra Fl
Dr. James Clark, UTSA Aikido Club
Sensei Tristan & Sensei Fabian, Austin Martial Arts Academy - Grappling
Mike Rangel, Vale Tudo Team - San Antonio Tx
Coach Dan Chomycia, Russian Martial Arts, Austin Tx
Johnny Stout, Guadalupe School of Knifemaking
I am a Japanese Samurai descendant who fortunately got to experience so much more than what is listed above. Some of my best martial arts experiences were not in a studio, just training with people who loved the art. From Savate, Ninjitsu, Tai Chi, Eskrima, Kali, Krav Maga, Boxing, Kendo, Karate, Tae Kwon Do, Shuai Jao, Ba Gua, Kenpo, JKD, Capoeira, the list goes on and on, there were so many talented and wonderful practitioners, but I also have to admit that I met my fair share of the darker side of martial arts, there were some scary people with some severe emotional problems too!
It is what it is, meaning there is good, bad, and shades of grey, but I do highly recommend that you try martial arts, so in your martial arts journey be safe, be professional, be polite, and have fun!
Posted by

Wmpyr
at 1:00 AM
No comments: